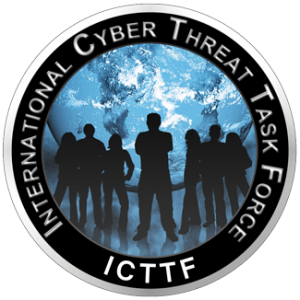 The ICTTF – International Cyber Threat Task Force was established in 2010, as a not for profit initiative promoting the ecosystem of an International independent non-partisan cyber security community.
Over that decade, we have consistently innovated on how best to achieve our mission. From online community portals, apps, local membership chapters and international events we strive to work with our thousands of members from around the world.
Our mantra is "It Takes a Network to Defeat a Network" and our primary objective to foster collaboration and networking has been immensely successful, with our events culminating every year with our annual EU Cyber Summit.

The ICTTF was born in Ireland and when launched used the slogan "Ní neart go cur le chéile" which in English translates to "There is no Strength Without Unity".

Strength comes from knowledge, so we have developed the Cyber Risk Academy as an online training campus for individuals and organizations to become cyber strong and unified.

We work with our cadre of global cyber security, risk and privacy experts to develop the world's best cyber community. As we continue to evolve and meet the dynamic challenges, we innovate to make a difference.

A recent example is the launch of our free Cyber Security Bootcamp for Women, to deal with the challenge of diversity in the cyber security sector. This ambitious project has been made possible by the patronage of members and students within our cyber risk academy.

A fantastic example of the ICTTF community working together to support the industry and help defeat the "cyber bad guys".