Black Friday & Cyber Monday Tips
No website is ever 100% secure and you will never be 100% safe online but the following tips can help to keep you safer this shopping season.
Only deal with reputable retailers that you know and trust. To avoid falling for shopping scams online:
Do not click onto a website via an ad or pop up.
Take the time, an extra 10 seconds, to search the official URL or website name of the retailer to ensure you're not being directed to a fraudulent website.


Check the retailers social media platforms and reviews (trust pilot)
Be aware of the retailer's URL:
Whether you're shopping with well-known retailers or with smaller brands, you should be equally cautious.
You should check that the website's URL begins with HTTPS and not HTTP.
The 'S' means it's secure. Websites that have this 'S' means it encrypts your data, hiding it from hackers.


You should also check for a little symbol of a lock at the beginning of the URL.
If you do not see the lock symbol and the site's URL is not HTTPS do not purchase from it.
It's also important to warn your friends and family of the website to prevent anyone purchasing from it.
Use strong passwords:
When making an online purchase, if you decide to create an account with the retailer instead of "continuing as a guest", make sure you protect that account by creating a strong password.


Use at least 8 characters including some capital letters, numbers and symbols.
Google suggests strong passwords, which is useful but be aware that if someone hacks into your general Google account, they will be able to see every 'Google Suggested' password that you've saved. This means that any website you've payment details or personal information saved on, the hacker will have an open door to that also.
So whether you create an account or not, you should not save your payment details on the site. Even though it makes shopping easier for future purchases, if that site falls victim to an attack, your payment details will be available for a hacker to steal and use.
Do not shop on public WiFi:
Using public WiFi is an open invite for hackers.
Public WiFi is often unsecured and unencrypted making you vulnerable to hackers waiting to pounce and steal your personal information such as your email address, mobile number and credit card details etc.
If you have to use public WiFi, invest in a 'Virtual Private Network', a VPN.
This is a tool that gives you privacy and security, keeping your data safe on public WiFi.
You can get free trials of a VPN to use for Cyber Monday and Black Friday but this should be something you invest in anyway. VPNs cost anything from €4 - €10 per month.
The majority of people spend that on numerous streaming channels every month, so we should be spending the same amount to protect ourselves.
Check your bank accounts regularly:
Keep an eye on your bank account for irregular activity during and after the shopping season.
Glance through your transactions and make sure the amounts charged are correct and make sense to you.
If there is a transaction listed that you can't account for, or you notice anything irregular, contact your bank immediately.

In summary: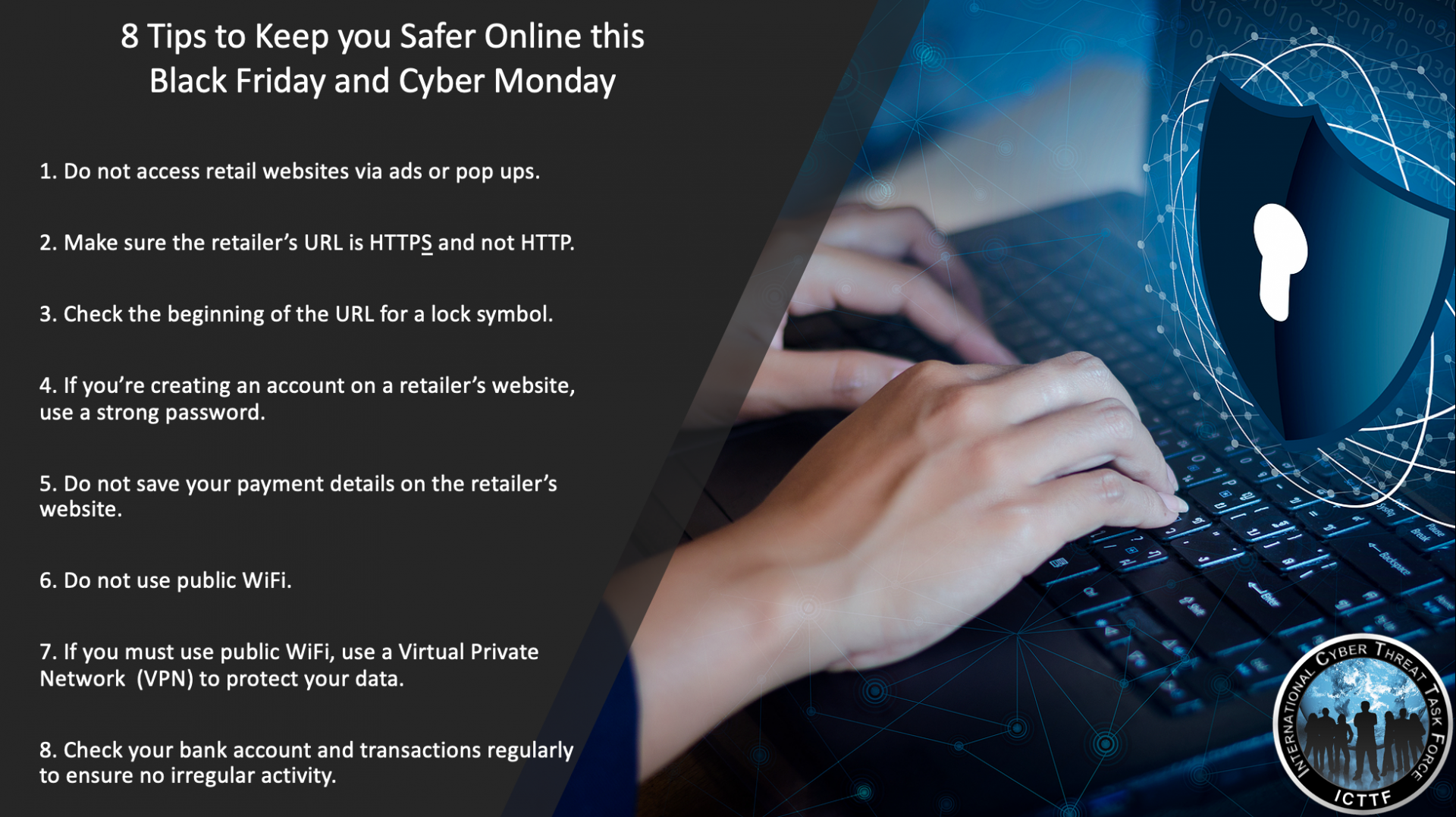 Ella O'Neill is a Cyber Security Researcher Intern at ICTTF.