includes

ASSOCIATE MEMBERSHIP
Buy here the CYBER RISK LEADEARSHIP book and become an Associate Member of the ICTTF.
You will have a year access to an exclusive content, private discussion groups, discounts to the Cyber Risk Academy and a special dedicated book from the author Paul C Dwyer.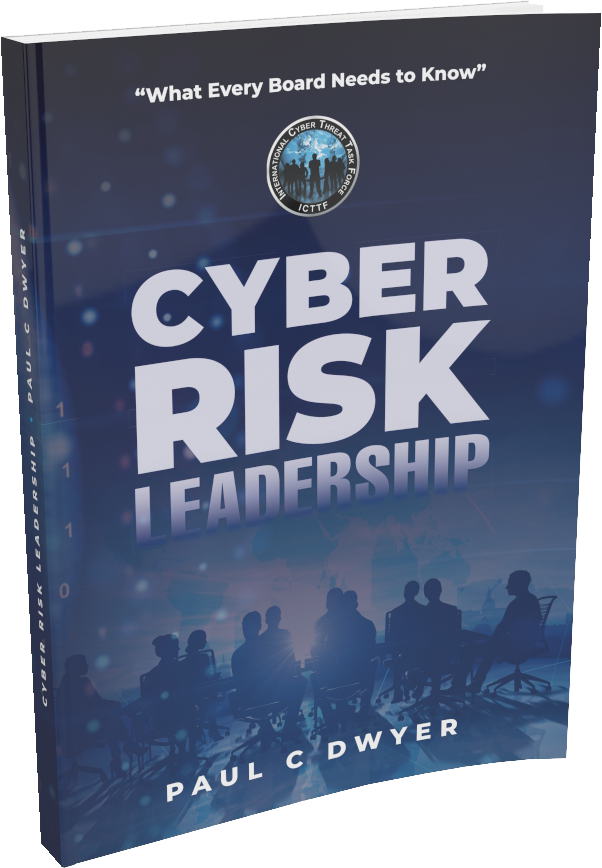 "What every board needs to Know – an executive briefing developed specifically for the business leaders of the financial sector and delivered by one of the world's foremost experts on cyber security, risk
and privacy
".


This non-technical business focused briefing provides an overview and clarity for leadership in relation to the status of the global cyber risk landscape and its potential impact on their organization.

Understand the relationship and various objectives of cyber threat actors. Gain an appreciation of the relationship between geopolitics and malefactors. Contextually review the dynamic cyber risk impacts in relation to Covid. Highlight the complexities of the increasing burden of regulatory and legal legislation in relation to cyber security and privacy.
Walk through the anatomy of an attack on an organization. Outline the challenge and complexities with developing an appropriate cyber strategy that can empower the organization to deliver on its key objectives. Highlight the benefits from aligning an appropriate cyber strategy with the business strategy of their organization and how to empower leadership with meaningful metrics.

Understand the role of leadership in meeting the cyber challenge today and leveraging the guidance from the G7. This briefing concludes with an overview of the importance of cyber resilience and an outline of 10 key actions the organizations can embrace in relation to assurance of their cyber resilience status.
The Underground Economy of Cybercrime
The Fifth Domain
• Cyberwarfare • Blurred Lines

The Cyber Risk Impact
from Covid
Cyber Kill Chain • Understanding the Anatomy of an Attack
Developing a Cyber
Strategy
CRQ Cyber Risk Quantification
• Meaningful Metrics
Cyber Governance and Oversight
• The Role of Leaders
Understand the G7 Cyber
• Fundamentals for Leaders
Cyber Resilience
• 10 Key Actions